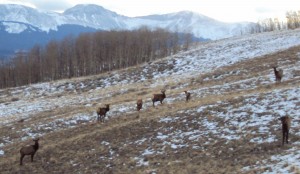 1
One perfect dozen, staggered along the ridge
across from Black Mountain,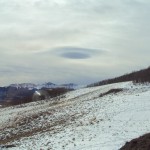 high above the huge bowl below.
An empty ocean calling us to dive.
Giddy with altitude we cling to mountain slopes,
even with flat floors beneathe our feet.
The massive landscape an embrace from outer space.
Lit by sun and moon, swept in wind and snow.
We're in Colorado.
Three days ago I could have lost you.
This side of the mountain just six inches deep.
Round the ridge two feet of white erased that s'posed to be so obvious pass.
3 hours, 4 hours, then 5, then 6.
You searched and searched, traced, retraced.
As sun retreated behind high peaks darkening trees erased your view.
By cell phone I heard you say,
"Think I can see where to go, but just can't seem to get there."
I waited at the bottom of Breakneck Pass to maintain that thin connection.
A man in a utility truck pulls up.
Asks if something's wrong.
Writes your number down.
Says he'll leave a message.
A message.  For 'Search and Rescue'.
Slowly I trekked up the road, back to a warm and empty house.
Played a song on the baby grand.
Sang it.  Sent it out to you.
Tried to make supper for a cold and weary man.
Tried not to worry.  Then I tried again.
That redneck angel made the call afterall.
You said Sheriff Jim gave you a piece of advice before he left you here:
"She's going to want to yell at you.  Best to just let her."
But I didn't.  I gave you spicy broth and spanish rice.
You put whiskey in your coffee.  I rubbed your feet.
Told you I sang you a song.
"'He Fishes'.  Right?"
"Yeah.  'He Fishes'."
2
One perfect dozen, staggered along the ridge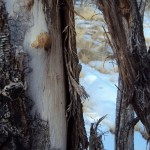 across from Black Mountain,
high above the huge bowl below.
Back in Minnesota there's an elk farm down the road.
Paddocks with dense, tall fences.
Cute babies with mamas and guys with crowns greater
than worn by earthly kings.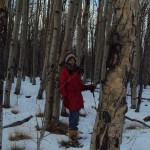 But these. These are wild ones.
Nibbling tufts of dried up grass, bites of bitter sage.
We creep onto the deck, longing to get close.
Slow step.  Slow step.
"Shh", you warn, but I have to speak to the
She who stares at me.
"You are so beautiful", I coo.
She holds my gaze.  "Of course I am. I know.  I know."
They frame themselves against Buffalo Peaks, posing in the sunset,
then slowly ramble, receding into dark.