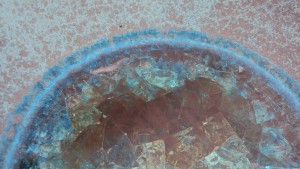 We entered The Bohemian, a gracious old B & B with Victorian charm, on a June afternoon just over a year ago. (See my blog entry June 29th, 2010)  We passed through a freshly painted porch which hugged two sides of the house, knocked on the door, and were greeted warmly as other guests drifted in behind us.  The dining room table was already set for the next day's breakfast with fine china and lush linens.  We were offered beer and cheese and slices of sausage, refreshments befitting the very German town of New Ulm, as we made small talk with the others.  Then the owner Bobbi arrived, her dark hair swept back, an old fashioned apron taut over the perfect roundness of her tummy.  Bobbi wasn't classically beautiful, but she exuded immense confidence and a radiant good naturedness.  An unfussy hostess, she balanced her toddler Savannah on one hip while pouring beer into a  glass, spilling joy lavishly into every room.
We were shown to our suite in the carriage house;  walls and ceilings painted a claustrophobic red, a huge sunken bath almost big enough to swim in,  a plush bedroom with no windows.  When the sirens started all guests were rounded up back into the main house and down the staircase into the bowels of the ancient Bohemian.  We  descended into the crowded chaos of old stuff, cleaning supplies, floor to ceiling pipes, dank with the smell of musk and overly perfumed laundry soap.  Bobbi did not apologize for the state of the unkempt part of this house, but offered more libations of wine and Cheese Its and popcorn.  Jerry tracked the treacherously close tornado on his laptop as Savannah and I hung out together on the huge green stuffed crocodile.  
There were racks and racks of clothes in the next partition -  costumes from Bobbi's many years of directing and producing plays.  She shared her dream of doing more community centered theatre in alternative spaces.  This woman had so much creative energy!  As the threat of devastation began to subside guests drifted back up the stairs to peer out at chunks of hail and branches littering lawns.
Thanks to Bobbi, our time at The Bohemian was a wonderful exchange for playing music at a farmers market the next day.  With more storms threatening our afternoon venue  was moved from a geodesic dome to an intimate house concert.  
Over the weekend we had was more time to talk with Bobbi.  I told her about my musical "Earl Tracy",  promising to send a script, and gave her a copy of my poetry book, "Peculiar Thoughts of a Peculiar Housewife." 
I was shocked to see the article and picture in Sunday's paper.  The grand Bohemian is gone now.  It burned down last Saturday, taking with it Bobbi, three year old Savannah, Bobbi's fifteen year old daughter, and three others, so far unidentified.  Bobbi's fiancé and Savannah's father Charlie made it out alive.  
I can only imagine how he and the community of New Ulm grieves for this vital, passionate, generous woman.