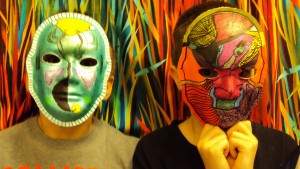 At the Discovery Elementary School in Buffalo the third, fourth,  and fifth graders are very busy studying insects in both traditional and surprisingly diverse ways. One day you may see students making skeletal drawings and stunning three dimensional masks of insects.  On another day you may witness them performing their original poems about our invertebrate cohabitants, alive with onomatopoeia, sound effects, movement, and a lot of exuberance. With mounting evidence that arts in the curriculum improves student performance while making learning fun, it's not surprising that Discovery teachers often include artists in their classrooms.
When local artists Lee Ann Goerss and Marienne Kreitlow met a couple of years ago they had no idea that they would both be part of a pilot program that brings rostered teaching artists into classrooms. Certainly they had no clue that they would be integrating the study of insects with visual, language, and performance arts in the same school.
"I had seen Lee Ann's stunning art work at some stores in Buffalo," said Kreitlow.  "I knew I had to connect with this creative woman." They met over tea, and some months later were delighted to find that they were both accepted into the training of the Teaching Artist Roster Program, a collaboration between the Central Minnesota Arts Board, Perpich Center for Arts Education, and Paramount Visual Arts Center. Whereas Goerss had been volunteering at Discovery since her daughter was a student there some nine years ago, Kreitlow had little classroom experience.  As a seasoned composer, performer, poet, and playwright she  facilitated workshops mainly for adults designed to "activate and free up creativity through movement, sound, and writing."
"Marienne has unique abilities to inspire others to use their bodies and voices,"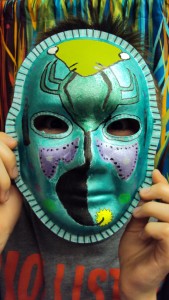 said Goerss, "so I knew that she would bring something I couldn't into the classroom.  I encouraged her to apply for a grant applying those skills to the insect project, knowing that her presence would deepen the students' experience."
The program serves Benton, Sherburne, Stearns, and Wright counties, and is funded, in part, by a grant from the Central Minnesota Arts Board, through appropriations form the Minnesota State Legislature with money from the state's general fund and its art and cultural heritage fund that was created by a vote of the people of Minnesota on November 4, 2008.  Accepted artists complete their training over a six-month period in preparation for working in a residency program, learning to support educators by making the connections between their art form and the Minnesota State standards in the arts, and, just like what's happening at Discovery Elementary, integrate art into other subject areas.
"Our training was tremendous," Kreitlow said,  "though, at first,  frustrating.  What I do intuitively do from years of practice I had to break down into a step-by-step process to reach clearly stated and achievable goals.  I loved learning about 'reflective protocol', which gives students the opportunity to discover the meaning and impact of art for themselves."
Goerss loves the way art fires creativity in children, and the amazing rippling effect of that fuels her passion. "There are moments of interacting with a student that take my breath away.  One day we were doing creative writing in the park and a child said to me 'I don't know how to write.'  I said, 'Of course you do.  Just close your eyes and listen.  Then open your eyes, look around, and write down everything your senses tell you.'  His writing was really wonderful, but what I'll never forget was the look on his face as he declared , "I can write!"
"I have been fortunate to partner with the Central Minnesota Arts Board and a tremendously supportive teaching staff that recognize the power and potential of quality curriculum infused with art." Goerss continues,  "Each teaching artist brings a unique perspective to this residency and provides opportunity for collaboration."  Kreitlow echoes that sentiment: "The teachers obviously care deeply about their students.  It's a very joyful and respectful learning environment and I'm grateful to be a part of it."
www.centralmnartsboard.org/ArtistRostered/index.html
www.centralmnartsboard.org/ArtistRostered/index.html